So here I am, after my first complete week. Four 5-minute runs with 5 minutes walks in between (4x5s). It may not sound like much, but for a person coming from ground zero, it really is no small task. And the biggest thing is to be consistent. It took me 3 weeks just to get myself out and do this on a regular bases.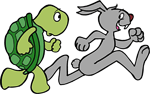 Then when I think about this last week, the cardio wasn't really that hard, because after 3 sets the endorphins kick in and I feel as though I can go more. The hard part (other than trying to be consistent) is not doing more than what is on the training schedule. I have to keep telling myself Tortoise and Hare, Tortoise and Hare… do not to overdo things and chance a running or knee injury.
Let's see if I can take it to next week. For now, I'm going to enjoy the Valentine's weekend in San Diego.