Distance: 6.01km Time: 0:46 Pace: 7'40 kCal: 604 Heart: 132/151 RPE: 5 Type: 1x25min
Today I went out for my first day of week 5 pre-training. I knew it was going to be an easy run because I only need to expand my time by 5 minutes, not do a second set, and I had my haircut to knock off a few pounds! Okay, may be not that much in weight reduction, but less hair means it's easier for me to sweat into my hat and to stay cooler longer. So the immediate result was – it felt great to run today.
And boy, did the run go fast! By the time I do my warm up, run, and cool down, the total time is only 45 minutes. I wanted to go longer, but… Blaine, stick to the plan. Normally I wouldn't be so diligent and sneak in a few extra miles walking and cooling down. But there was another reason to get back after the run; bright red, plumb, yummy strawberries! It's strawberry season and yesterday I stopped at Grower's Direct and got some of the best I've ever seen. I really tried to wait until today to have any, but the temptation was too great and I snitch a few before going to bed.
So at the end of today's training, I did a little bit a stretching and headed straight back home for my prize: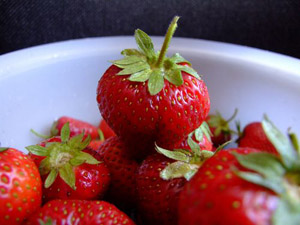 Yum-yum-yum…
One orange
Half a grapefruit
Six strawberries and
5 ounces of blueberries
Mixed together and squeezed together into heavenly bliss!
I can't wait for tomorrow's run where I can indulge in another shot of bliss!