On March 27 I'll be running a 5k event that goes through Knots Berry Farm in Southern California.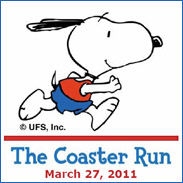 It's called the Coaster Run and at the same time I've set up a fundraising page where people can go and donate a dollar here and there. The proceeds will go to the Speech and Language Development Center which is a non-profit school and therapy center that helps challenged children live a more healthier and happy lifestyle.
The children have a variety of inhibiting conditions such as Autism and Down's Syndrome or have severe trouble speaking, seeing, and hearing.
So while I'm one track to run my marathon, it's even more fullfilling to know that when you do run, you can run for a worthy cause.
By the time March 27th comes around, I'll be finished with my pre-training and a 5k run should fit in nicely with my schedule as well. With this charity event coming up, I'm even more motivated that before!