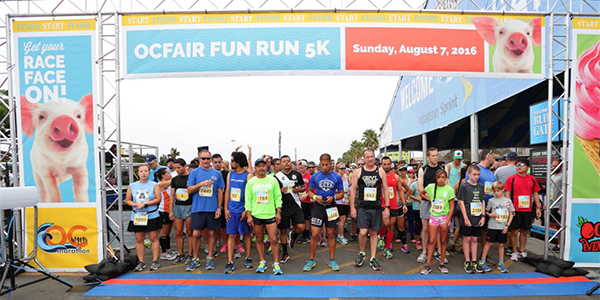 As in our family tradition, every year we go out and do the Orange Country Fair Fun Run. This was to be my first race since I started training for the Marathon – but wait… it's not really a race… just a Fun Run!
So this year we invited some non-runner friends to join us.
Knowing the routine, we got to the race 10 minutes before it started taking a back road to the fairgrounds. The great part about this is that everybody is already at the race and there are no huge line ups.
We walked to the front, took a quick photo and then found our friends. The race started and off we went.
The first 1k around the parking lot actually involves a little running as everyone is trying to 'position' themselves. Then once we got into the fair, it was time to have fun and win some prizes at the stalls. I was lucky enough to win a little piggy (this year's mascot) at the basketball hop challenge and then off we went, stopping for a slide run a little later and then jamming with Pikucho (another tradition).
Total time was an hour where the actual run/walk time (not waiting in the event lines) was around 40 minutes. Unfortunately, we never saw our friends. Apparently they didn't know it was a Fun Run and(12 year old) Bryan  took off and ran the whole thing. His mother then took off after him and the father? Well… he was a little smarter and took his time to enjoy things. Bryan's mother completed the run in 42 minutes. Not bad for someone who has never run before! Yet, for some reason, we didn't hear from them all week, only to find out later that they were moving slowly around from day to day with muscle aches all over their bodies. LOL – Yes, definitely been there, done that! So I don't think they will be joining us for another race anytime soon.
But all in all, it was a fun time and we got some cool finisher medals!