Distance: 10.02km Time: 1:21 Pace: 8'07 kCal: 953 Heart: N/A RPE: 4 Type: Pain Assessment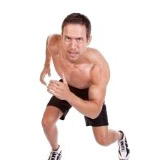 Wow – I did that!
It was another good day.
After going to the doctor I got pissed off that I've got this knee problem.
I rested a little and then started out walking a bit last weekend.
I was out 5 days in a row taking it easy and then did a little running.
Well, after I got invited for a run around the lake with another runner (a first for me), I decided that I need to really stop moaning about my problems and get out there – without killing myself (I might add).