Distance: 6.28km Time: 0:34 Pace: 6'49 kCal: 657 Heart: 121/145 RPE: 5 Type: 3 miles (Lake)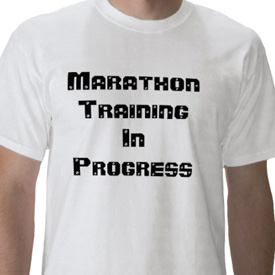 What better way to start my first week of marathon training plan than by celebrating the Boston Marathon!?! It was great to follow my Twitter friends on their runs to victory. Don't you just love Real-time Stats? Thank you Boston!
And then there is Ryan Hall. Did you see what he wrote on his shoe before the race? How did he know? 2h4m Amazing!
So here I am, starting out.
Well, not really… Pre-training is all done and 5k runs are a norm for me now.
This last Saturday I actually ended up doing a ½ marathon.