Distance: 5.00km Time: 0:33 Pace: 6'40 kCal: 571 Heart: 149/166 RPE: 6+ Type: 5k Race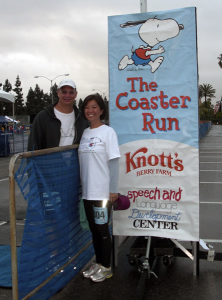 Wow. What a lot of fun last Sunday was!
My first running race in years and I was actually able to get some sleep the night before. So when the alarm went off at 5:45am, I was already up and ready to go. The fact that I've been doing my walks and runs in the mornings for the last month helps with that too.
For my wife, well…
She likes her sleep on the weekends.
But today was different. I secretly enrolled her into the 5k as well. Since she's years younger than me (and in much better shape, I might add) I knew that she'd love to join me on my first 5k race towards a marathon.
And… whew… I was right!