Distance: 5.2km Time: 39:06 Pace: 7'32 kCal: 2,195 Heart: 141/199 RPE: 4 Type: 5K Race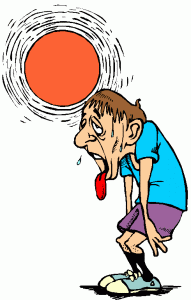 This month has been so hot and between earthquakes and heat waves, running has not been #1 on the list. It's around this time that I start looking for fitness gyms to get on the treadmills.
Yes – I know most of my friends out there do this in the winter months when it's -20° …
Oh how I would love a little cold weather right now.
But be that as it may, I've been trying to get out and run. The sad part is that my running pace has gotten so slow, that it's embarrassing! As a matter of fact, I got a new PR – in the opposite direction!
I ran the OC Fair Run last weekend to post a time of 39 min. WHAAT!!
I can almost walk it in that time! What happened to 30 minutes!?!
But I figured it out while running on the beach a few days ago. My stride is 1/2 – 1/3 of what it used to be. Ooooh boy…
The good news is that I'm not getting any injuries and it's very relaxing to run 90 minutes. But at a pace of 8'15", that's slower than my marathon pace. And that 5k? During the first mile I was thinking of how slow I was going because of all the people. But then after uploading my results, it said my fastest leg was the first one. Hmmm… maybe just too much fun checking out all the rides and games as we were running through the OC Fair (good excuse, eh?).
I hope the heat breaks so that I can get some faster pace-times in there. I'm doing tempo runs and adding lunges, but I need to see about getting that stride up. I guess I've been taking it too easy. Disney's in a few weeks and I'm looking to have fun there. But, I want to do better than the one in January (and still get a photo op with Chip and Dale).
I'm itching to get out and get a 'safe' productive run in.
Anybody have suggestions on how to increase my pace?