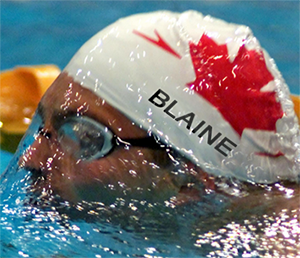 Since my heel has taken a turn for the worse, I've decided to offset running with swimming and biking.
Running is almost non-existent in my weekly routine for now (though I did go out and do the Color Dash 5k to end Stroke).
So, I started to get out and cycle 10-20 miles a day. But then my bike broke down and ended up in the shop for a week. Now with running out of the picture and cycling on hold, I forced myself to get a pass to the local LA Fitness. Why? Just to use the pool, of course!
I've gone everyday so far and each swim has been at least a mile. I went crazy the first day doing almost 2 miles, since I just kept on going and going. Now I'm not that crazy and try to keep it under an hour. I even tried splits and different exercises, but it's all just so confusing when you're under water only trying to think (and remember) to hold your breath!!!
Of course I wanted to see how I compare to others. After all, the last time I took swimming seriously it was about 20 (or 40) years ago! The great news is that while I'm not the fastest swimmer at 35-36 min/mile, it does 'almost' put me into a Masters 2 Ability to try some neat workouts. Yoo-hoo!
So while I can't run for now, at least I can set a short-term goal to improve my swimming.
As for cycling?
Yeah! I just got my bike back, so tomorrow morning I'll hit the pavement (after tonight's swim, of course!).