Distance: 10.12km Time: 1:30 Pace: 8'58" kCal: 921 Heart: 127/162 RPE: 5 Type: Magic Mile Test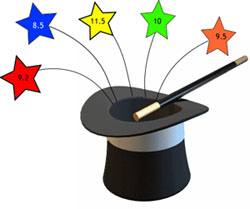 This last weekend was my first time back to running.
My health is almost back to normal and the only thing left is to go see the dentist to fix up one of my teeth so as to avoid the bumping pain when I run (a filling fell out – rats!).
So, with only a few weeks left before the Disney Half Marathon, I'm looking for a way to fit my runs into a smart schedule. And for that, I've decided to use a part of Jeff Galloway's training method which means I needed to figure out my Magic Mile.
Yesterday I did all the warm ups, glides, and jogging before seeing how well I could do coming off my chest cold. I was right where I thought I'd be: a 10 minute mile. So, I guess I'm looking at a 2h30m time for the moment. We'll see how things go over the course of my last few weeks of training, but wouldn't you know it… the weather for this coming week (all week) is RAIN!
Just when I'm ready and itchy to get going again.
Man, when it rains, it pours… get it !?!
Well, let's see if I can sneak in some treadmill time.