Distance: 12.26km Time: 2:11 Pace: 10'42 kCal: 1024 Heart: N/A RPE: 3 Type: Recovery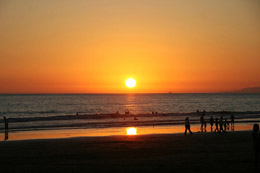 Wow – Another week!?!
Just like that. Work has been keeping me waaaay too busy, and it's getting hard to find the time to get out and run.
But, I'm still dedicated and I even got a (non-running) friend psyched to come out and join me last weekend for an 8 mile (12k) walk-n-run in Newport Beach. Newport Beach has some amazing sunsets, by-the-way.
Yes. You heard me right. Walk-n-Run!
Thanks to all my Twitter, Blog, Facebook, and local friends for support and advise. I'm talking it easy and enjoying my 'outings'. This coming weekend I'll be doing a little 5k race at the OC Fair. Not so much for running as for getting free admission into the Orange County Fair. Howz THAT for motivation!?!
I did this event last year. Wow – last year…
Needless to say I was a non-runner back then and could only run half of it. 5k is now a piece of cake and it's part of my regular running schedule. But still, one week to go before seeing the knee specialist, so I won't push it… I plan on taking it as a regular daily run and get my free admission – Yeah!