Distance: 5km Time: 0:33 Pace: 6'29 kCal: 579 Heart: 155/163 RPE: 5 Type: 5k Race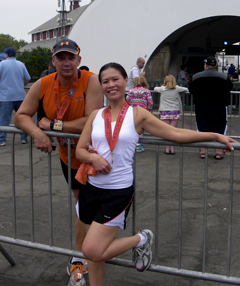 I took this weekend easy and signed up for the Orange County (OC) 5k Fun Run and Walk.
I did this event last year and ended up walking some of it, so I have this feeling of coming full circle. This time, however, the 5k was not difficult and I ended up taking it nice and easy, pretending that it was just one of my weekly training runs.
There were a lot more people this year, too. Probably because it was only one event instead of two. And…
There was a traffic jam for the first 1 mile!
I ended up being a little slower than usual, but that was due to the congestion of people.
The fun part of this event was that I got a (non-running) friend of ours to join the event.
And of course, my wife joined me as well so we had a fantastic time!
More Photos Here
The first mile was around the parking lot and the last two miles were inside the amusement park.
It was a lot of fun running through the fair and checking out the rides with nobody on them. Thirty-three minutes later (yes, my famous 33 minute runs!)… it was all done and we got free admission into the fair before it officially opened. They also gave us an additional ticket that we can use anytime over the next week. Pretty cool…
I also posted a few other pictures online. Hope you have time to check them out!
http://bit.ly/ocfair5k