Distance: 12.43km Time: 1:11 Pace: 6'42 kCal: 1044 Heart: 143/165 RPE: 5 Type: 10k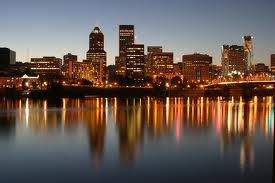 I'm so excited.
It's only a few months until the Portland Marathon and I finally called up and booked my hotel.
The flight's already booked and after going to the Portland Marathon web site, I'm getting even more motivated because there are a lot things going on that weekend.
I'll be staying at the hotel that has the Health Expo (and get Hilton Honor Points!). Plus, the starting line is only a few blocks away.
I must admit that I've been getting 'cold feet' about things since my knee has been causing problems. But after reading about the course and how friendly it is for first-timers like me, the worries have all gone away. As a matter of fact, I was so excited that my run on the weekend ended up being a lot of fun – and… no post knee problems at all (i.e., swelling, popping, etc). This week I'm back on track and looking forward to all my training runs. And I'm really looking forward to my long run next weekend!
And as for Portland, I have a friend that's now living there that I haven't seen in almost 10 years. I'm hoping we'll meet up after the race. It'll be a great reward after doing 26.1 miles!
Only a few months to go and it's going to be fun!