Distance: 12.30km Time: 2:04 Pace: 10'05 kCal: 1072 Heart: N/A RPE: 4 Type: Pain Assessment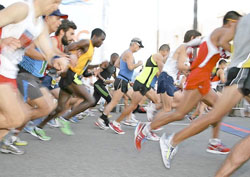 So I've got 3 months before the marathon and it's time to start putting in the miles.
Today and tomorrow are 5-6k runs mixed in with 5-6k walks. Then next week it's all running with some recovery walks outside my regular training.
I know I'm going to be about 3 weeks short on the rest of my training, but I will get all my long runs in before tapering the week before the marathon.
I'll also have to wait and see what the doctor says about the knee mid-August, but for now I'm planning on going through my routine and build up my mileage. Today's 5k was a breeze and no pain, so I'll do a repeat tomorrow and see how it goes.
If all works out, week three will (re)start on Monday!