Distance: 10.02km Time: 1:21 Pace: 8'07 kCal: 953 Heart: N/A RPE: 4 Type: Pain Assessment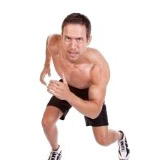 Wow – I did that!
It was another good day.
After going to the doctor I got pissed off that I've got this knee problem.
I rested a little and then started out walking a bit last weekend.
I was out 5 days in a row taking it easy and then did a little running.
Well, after I got invited for a run around the lake with another runner (a first for me), I decided that I need to really stop moaning about my problems and get out there – without killing myself (I might add).
So I took a day off (1 recovery day) and got out yesterday morning.
It was a watchless Monday (on a Thursday). That means I take my nano, turn it on, put it in my pocket and forget about it.
I walked for a bit and ran one lap around the lake with a smile.
Why the smile?
Because it was fun and I felt GREAT!
My knee wasn't bothering me and the temperature was perfect!
10k later I'm back home to whip out my nano, load it up on Nike Plus and see how I did.
I got blown away! 5k in 36 minutes – which included a 50% walking warm up. When I looked at my run, it was all sub 6 mph. YATTA! It felt great and I had no pain at all. Even after today's rest day there were no aches and pains.
Tomorrow I'm out for a 10k down by the beach. I must admit that I'm looking forward to it.
Naw – I won't go crazy.
But, that one-day recovery before the lake walk did miracles, so let's see how today's rest-day works for tomorrow's 'jog'.
Oh – and just for the record… that's really not me in the picture. Well… not me… yet!
I did get the same haircut today, though….