Distance: 7.30km Time: 1:00 Pace: 7'48 kCal: 768 Heart: NA RPE: 5 Type: 3 Miles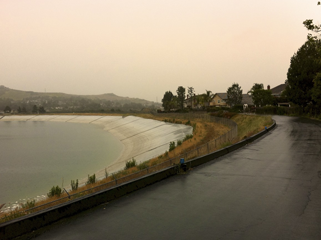 Today was my recovery run after running the Pasadena on Sunday.
No heart rate on this run because my battery died just before the Pasadena race.
Anyway, I woke up at 5:30 and struggled with the idea of getting out of bed because it was cold, dark, cloudy, and wet outside. Was it raining? It never rains in 'Sunny' Southern California.
But come to think of it, it did on Sunday and it even did it the week before for on my only run! Somebody or something is out there taking its revenge on me!
But I like the rain, I like the overcast, it's not hot. It's perfect for a morning run. I just try and not worry about getting lost in a flash flood or drowning in a puddle. It's amazing what positive thinking can do! So….
So out I went, but took the car to the Walnut reservoir instead of walking it. Who wants to walk in the pouring rain anyway? That's just weird! Running, sure. I'm a runner now – remember? And runners do crazy things! Oh yeah, that's right. But I'm still taking the car.
I got to my destination and saw one other car there. Okay, I'm not the only crazy dude around. I looked at car clock, not even 6:30. Rat's I can't make a final excuse saying that I won't have time before work. I forgot my watch! Yeah! I need a watch to run. Oh, no I don't – it's Watchless Monday (or in this case Tuesday). Besides, I had my Nano backup in the car… and rain let up to a drizzle.
Okay, so I ran out of excuses and got out of the car. Did a few easy stretches to get my circulation going and headed onto the walkway. Not a single person in sight, but you know what? It was peaceful and relaxing to hear the light pitter-patter of rain and the distant cooing of a swallow.
I took off and didn't have to worry about 'runner' or 'bike' traffic. The temperature was perfect and I finished my 5k in no time. It was still raining and I really wanted to keep going, but instead to pushing it (after all I was injured last week), I decide to walk an extra half hour in the rain.
I had the lake to myself and I was really enjoying my walk. Hmmm… I guess I'm now officially weird!
As the last man on Earth, I walked away from the lake and towards my car. And… just as I finished a few more stretches on my cool down, another runner pulled up, got out of her car and started to stretch. She looked at me and smiled. I smiled back and said "have fun" as I entered my car.
Another runner having the lake to oneself…