Distance: 6.28km Time: 0:34 Pace: 6'49 kCal: 657 Heart: 121/145 RPE: 5 Type: 3 miles (Lake)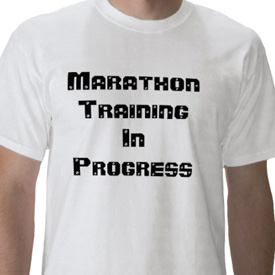 What better way to start my first week of marathon training plan than by celebrating the Boston Marathon!?! It was great to follow my Twitter friends on their runs to victory. Don't you just love Real-time Stats? Thank you Boston!
And then there is Ryan Hall. Did you see what he wrote on his shoe before the race? How did he know? 2h4m Amazing!
So here I am, starting out.
Well, not really… Pre-training is all done and 5k runs are a norm for me now.
This last Saturday I actually ended up doing a ½ marathon.
Not because I wanted to, but because I lost my car key at the 5k turn-around and only found out at the end. So another 10k to look for a key that was not there! The good thing is that I went for another 10k recovery walk on Sunday and someone had put it up for me to see. Thank you to whoever you are!
Okay, enough about life, let's talk about today's run.
It was cloudy and 60°F…
A perfect morning for a run. So off I went and took it easy around the lake. I ended up only doing 3 miles instead of the traditional 2 times around (about 3.3 miles). The reason is that I'm dedicated to following this plan.
This week will be what I call a 343-5.
3 miles today, 4 mile tomorrow, another 3 on Thursday, and my first 'long' run of 5 miles on the weekend. Before I know it, I'll be up to 18 milers, so I might as well enjoy it while I can.
These next two weeks I'm in a couple of 10k races; Cinco de Mayo and the Temecula Wine Country run. I must admit that I'm looking forward to the one in wine country, since I'll be 'spirits-free' for the next few weeks. Except for the Champagne Brunch on Easter, of course!
Naw…
The truth is that I love wine country – or any country running trails, for that matter. I love nature and I think being able to run in a 10k race in the countryside with people that have a similar interest in health and happiness is the best anyone can ask for!
So, thank you Boston and hello Portland!
I'm on my way!!!