Distance: 9.96km Time: 1:10 Pace: 7'21 kCal: 969 Heart: 143/162 RPE: 6 Type: 5 Miles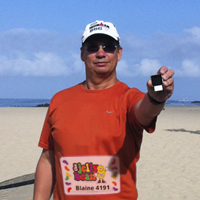 Yesterday was Saturday
and I did the first long run in my Marathon Training.
It was also Easter Saturday, which makes today Easter – a rainy quiet Easter Sunday morning where I am sitting on my balcony listening to the pitter-patter of rain drops and the sounds of doves and birds in the background, while everyone else is still sleeping before the rush of church goings and Easter egg hunts.
That's one good thing about getting up in the morning to do my runs – even on my rest days I'm up early enough to enjoy the peace, quiet, and spiritual solitude that life and nature can offer.
So here I am, with my coffee, and thinking about the big Easter brunch that will be coming later in the day… and I don't feel guilty!
Why? – Because yesterday I did the first long run in my marathon training.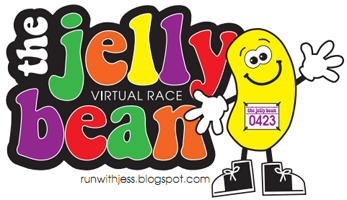 I'm on schedule and I'm feeling good.
I even sneaked in Jess' Jelly Bean Virtual Race (thank you Jess). I opted for the 5k instead of the 10k because I'll be doing three 10k races over the next 3 weeks and didn't really want that extra distance .
A good thing too as you will see. Besides, next week's long run is a 6 miler and I'm spreading out my training a bit so I can time it for Portland.
So while I feel good today, yesterday was a hard run simply because I psyched myself out.
Let me explain…
Two weeks ago I did a 10k run on the weekend and I've been running more than my 5ks during the pre-training. So after my mid-week runs, I came into the weekend thinking that the 5 mile run was going to be a piece of cake, besides that's only a little over 8k… right?
So the night before, I partied a little and went to sleep late. Oh-oh…
I woke up feeling good, put on my new Nike Plus GPS watch (review coming next week), donned my iPod Nano as a backup, and headed to the Newport Beach boardwalk to do my 5 miles. Ha – I said! Not even 6 miles! A walk in the park… So let's go.
Ha! Not even 6 miles!
A walk in the park
Off I went and did my first 2k split in no time! Okay
– still got another 6k to go, better just take it like a training run because after that second 2k mark I was already feeling a little negative about the distance.  Hmmm… not a good sign.
After about 4k I was still okay, but playing with my GPS watch too much. I then realized that I was coming up to my 5k-mark and could maybe break my personal best. So I gunned it, only to realize that the 5k-mark was one more street over (aka another 20 seconds).  Oh-noooo…
Now I was huffing, a little depressed, and looked ahead thinking I've got a long way to go. How can this be? I just did this two weeks ago! I tried to think 'happy thoughts' and develop the little red train 'I know I can' attitude. It was hard. I must admit, with the day getting warmer, and my heart rate rising, it was definitely getting harder.  But I can be stubborn… er… dedicated?
So I did end up completing my 5 miles. But it was not the fantastic run I was envisioning at the beginning. I started too fast and too excited. Then in the middle I did a crazy spurt without realizing the consequences.
Wake-up Call!
The run truly humbled me and made me realize what training is all about – to experience these 'hicups' and to work them out.  I'm beginning to realize that maybe running isn't so hard after all. You just get out, follow a plan, and put one foot in front of the other. Do it right and you don't get injured. Over time you get better at it. The hard part is how you put your mind to what you do and how you manage yourself. Sure, maybe just like the physical side, over time you do get better at it… but it was one thing I didn't think I needed to do. Silly, silly me. I guess we are all still discovering ourselves.
Now I'm more aware of it and I'm going to get better!