Distance: 6.06km Time: 0:46 Pace: 7'36 kCal: 528 Heart: 143/155 RPE: 5 Type: 1×30+8min (5k)
After days of insane schedules, meetings and seminars, it was finally time to sit back, take a breather, and de-stress. And what better way to do it, than by using the fitness center of the hotel to take a run and do some light cross training with weights.
When coming to the CTIA Wireless show in Orlando, Florida, I envisioned myself getting up early every morning, going down to the gym, and methodically doing my runs. Afterwards, I would hit the shower, have a light breakfast (with lots of fruit), and be ready in plenty of time for the 9:30 am opening Keynote speakers. Besides, when you plan what hotel your staying based on the type of equipment they have in the fitness center, you know you're an exercise freak and will be using all the equipment everyday during your stay, right?!?… WRONG!
I never planned on the 3 hour time change from the west coast (California) and the restlessness of having to prepare and present my company. The first morning I barely had time to get out of bed, shower, and make it to the opening session. Then later that night, I was so restless that I didn't get to sleep until well after 3 am. Sure the fitness center was opened 24 hours (another reason for choosing the Hilton Orlando), but I just couldn't justify getting out of bed, putting on my running gear, and trudging down to the gym. Instead I just lay there trying to use "mind power" to put myself to sleep for hours. Needless to say, day two was a repeat of day one with even less time to get to the convention center.
The minute I stepped into the fitness center the treadmills called to me.
So it ended today and I don't fly out until tomorrow.* The reward was to go down to the fitness center for the very first time. And boy, what a BEAUTIFUL  place! All new equipment, plenty of space, and definitely NOT crowded (I guess everyone was at in the pool, Disney World, Sea World, or already traveling back hope after the convention).
The minute I stepped in, the machines called to me. So inviting… so shinny… all just waiting for human hands to play with their consoles and human feet to pound the belts or spin the pedals. I think if I only went to check out the facilities when I arrived, I'd have succeeded in doing a few extra runs before today. But that is past. Tonight I enjoyed my treadmill run and even did a little more than I should have. It was a pleasure to do today's run… And afterwards?The stress and tiredness from the last few days is all gone! If you ever need to stay around the convention center in Orlando, the Orlando Hilton is an excellent choice if you want a first class fitness center.
Now I'm off for a swim in the pool and lazy river!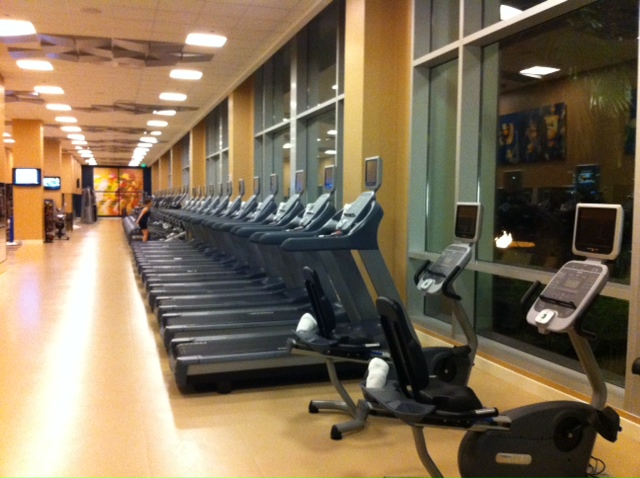 * Well the truth is that the conference ended yesterday, and I'm currently at the airport putting this post up on my blog. I did go for another run this morning, too. Now, with rubbery legs I'm anxiously waiting to board my flight. Don't you just love free WiFi at airports?!?