Distance: 5.00km Time: 0:33 Pace: 6'40 kCal: 571 Heart: 149/166 RPE: 6+ Type: 5k Race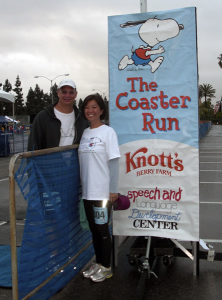 Wow. What a lot of fun last Sunday was!
My first running race in years and I was actually able to get some sleep the night before. So when the alarm went off at 5:45am, I was already up and ready to go. The fact that I've been doing my walks and runs in the mornings for the last month helps with that too.
For my wife, well…
She likes her sleep on the weekends.
But today was different. I secretly enrolled her into the 5k as well. Since she's years younger than me (and in much better shape, I might add) I knew that she'd love to join me on my first 5k race towards a marathon.
And… whew… I was right!
So at the crack of dawn I'm out of bed. But as I'm putting the clothes on that I laid out the night before I'm hit with my first dilemma. It looked like it was going to rain. So…. should I just wear just a shirt, or a shirt and my favorite sweat-top. I still haven't gotten to the point of buying a bunch of different shirts and vests for running. Not that I probably will either. A guy's wardrobe is usually just one t-shirt and a pair of running shorts for everything right? I mean, okay – I have a few other shirts around, but mostly ripped and with holes – definitely not something I'd want to wear on my first 5k run. It's like having a first date after all. And then I've got sweat pants that I can put on, but I always take them off before a run. The big problem was with the top… AND… where to pin the number. OMG… I just wasted 5 minutes!
Decisions, decisions, and the clock kept on ticking. As is so typical with me, I had to get going or I was going to be late. So in a mad dash, I pinned the number on my shorts and donned my favorite ready-to-be-thrown-out-and-fading black sweat-top and headed out the door.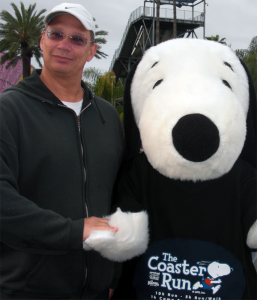 We made it to the event without incident.
(In other words, I didn't need to stop at McDonald's and to go the toilet). We looked around and checked out all the booths setting up, checked out promotions for other races, and watched all the energetic runners jogging around and warming up 30 minutes before the race. It was both exciting and intimidating.
In the meantime, we took some photos and even got to hang out with Snoopy!
Just before the race, we lined up, and it started raining as the National Anthem was sung.
Good thing I was wearing my sweat-top. Yeah!
Then the rain stopped just as we started. Perfect!
Off we went. Of course my wife, being small and agile, slipped though the runner's traffic jam like a fish and was gone in a blink of an eye. For me… well, I was simply enjoying the challenge of getting one foot in front of the other without stepping on anyone.
What a beautiful morning to be with all these people. Can you tell that I never get to run with anyone!?!
After about 10 minutes into the race I heard someone say that we passed the one mile mark. Wow! Already? That's great – I feel great. So I decided to pick it up a little. I wasn't wearing a headset and my watch doesn't tell me my pace (I use an iPod Nano with a Nike Plus wireless watch and heart rate monitor), but I've done enough laps around my local lake to know I was going faster than usual.
Just before mile marker two I hooked up with some people from the A Snail's Pace group. We chatted a bit and I found out that one them literally fell over the finish line in their last race. Well, then I had nothing to be embarrassed about… plus I felt pretty good being able to running along side these people and chit-chat with them.
Coming up to mile marker three I started to get tired. So I slowed my pace a little until I could see the finish line. At that point I was so excited that I just took off. Another.. WOW! I didn't know I had all that energy in me. I felt like I flew over the finish line. Then with the race behind me, I looked at my watch and saw that I finished a lot sooner than I thought! Amazing.
To finish it all off, I looked up and saw my wife with her camera… waving away.
Of course she finished before me… GRRRRR (well… just a little grrrr).
I think I should give her an Indian nickname like Tatonka, Light Feather or maybe Female Running Stick!
grrr grrrr….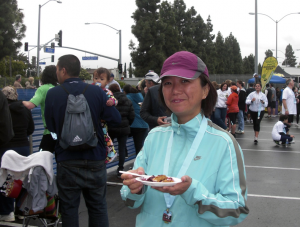 But that's okay!
The race was over and even though it started raining again, they served us some world famous Knot's Berry Farm Boysenberry Pie.
Hmmm delicious!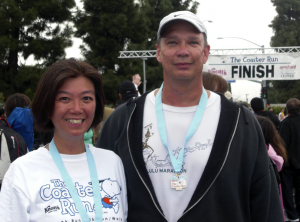 It was an amazing sense of accomplishment to be able to run my first 5k towards a marathon and to help raise money for kids with autism, down syndrome, and other disabilities.
It was great! And that's us right here with our cool shinny medals at the finish line.
Now I'm planning when the 10k race will be!